Blog Summary: Explore the latest healthcare app trends that are dominating the industry! Get insights on the impact of mobile apps on the healthcare industry and the benefits of developing a robust mHealth application. Drive inspiration from the healthcare trends and launch a successful healthcare mobile app.
As we're approaching 2024, it's likely fair to say that the online healthcare industry is blooming! 
There are over 350,000 mHealth apps in the market across multiple platforms. According to a report, the global mHealth app market size is projected to exponentially increase, expanding at a CAGR of 11.6% from 2023-30.
The interesting question to be asked is: Why is the online healthcare industry growing so rapidly? What has brought the change for patients to take to mHealth apps? The absolute answer is the rise of healthcare app trends.
Various technologies such as Big Data, AI & ML, IoT, and Blockchain are being integrated into healthcare apps to offer personalized medical services to patients. These technologies are enhancing the quality of services offered by healthcare professionals.
In this blog, you'll get to know about the latest healthcare app development trends!
Interesting Facts and Statistics About the Healthcare Industry
It's estimated that the

global healthcare market

will acquire a market volume of

$665.37 billion by 2028

.

The wellness healthcare app sector is estimated to acquire a market volume of

$9.9 billion by 2030

.

The

global telemedicine market size

is projected to be valued at

$460 billion by 2030

.

Valued at $0.76 billion in 2022, the global blockchain healthcare market is projected to reach a market cap of

$14.25 billion by 2032

.

By 2026, it's estimated the US healthcare market will have invested about

$29.15 billion in cloud computing & technologies

.
Top 10 Latest Healthcare App Trends
Over the last decade, there has been a significant increase in technological evolution. This has led to the unparalleled development of healthcare solutions that were not seen in the past.
Here are 10 healthcare app development trends that are revolutionizing the online healthcare market.
1. Rise of Telehealth & Telemedicine
The World Health Organization (WHO) termed telemedicine as 'healing from a distance' in a nutshell. The rise of telehealth and telemedicine is serving good for patients with chronic diseases and mobility issues. It's befitting that telemedicine is on top of our healthcare mobile app trends list. Patients can now consult doctors online via video consultation platforms, avoiding in-person appointments.
This has led to increased convenience for both medical professionals as well as patients. It also helps patients to regularly have consulting sessions and not skip any due to commutation worries. Telemedicine & telehealth services have enabled patients to reach out to medical practitioners across the globe covering various geographies. They can choose doctors from preferred locations and specific expertise.
2. Wearables Go Mainstream (IoMT)
Wearable technology is one of the breakthrough innovations of the 21st century in the healthcare space. Significant advances in biosensor technology have led to the development of modern wearable medical devices that help in remote patient monitoring (RPM). Medical wearable devices are used for a variety of purposes, primarily for fitness & health management. These devices are used to measure the heart rate, pulse, blood pressure, and sleep activity.
Doctors dealing with patients who have chronic diseases and mobility issues can remotely watch over them via wearables. They can monitor symptom growth, especially in cases of diseases such as cancer, and alert the patient to take actionable steps on time. The popular wearable devices in the healthcare sector are glucose meters, blood pressure monitors, fitness trackers, ECG monitors, and activewear.
3. Blockchain in Healthcare
If you were to ask healthcare institutions what was the single most important aspect that bothers them all the time, they'd be quick to say, it's effective electronic medical records management. When patient data is being exchanged through hospitals, pharmacy stores, and diagnostic laboratories, the safety of patient data must be ensured. It must be protected at all due costs from the hands of notorious third parties who are looking to misuse patient data.
What blockchain technology does is bring transparency in the medical data-sharing realm. When the mobile healthcare application is integrated with blockchain technology, data manipulation cannot be done. Every record of data is maintained on the decentralized ledger, helping to avoid data duplicity & discrepancies.
Protect Your Healthcare Data with Blockchain
Team up with Moon Technolabs to develop a robust blockchain healthcare application.
Schedule a Call Now
4. AR/VR in Healthcare
One of the top healthcare app development trends is the use of AR/VR in the medical industry. Virtual reality healthcare applications enable patients with mental ailments such as stress & depression to stabilize their moods. They can use the VR settings to transport themselves to ideal virtual locations such as a nature park or mountainous range. They can then practice guided meditation & mindfulness exercises with the aid of virtual instructors.
On the other hand, surgeons & medical practitioners are using AR to prepare for surgery undertakings. The 3D portrayal of human anatomies along with seismic vibrations enable the doctors to practice surgeries on virtual bodies with utmost precision.
5. Personalized Mental Health Apps
Personalized wellness mobile apps are creating a huge impact in the realm of the healthcare app industry – Headspace, Calm, Moodfit, and whatnot! These mental health apps are deriving great revenue with their personalized mood stabilization programs and exercises. Do you know why? It's because 1 in 4 US adults are suffering from some or the other diagnosable mental disorder.
The market for mental health applications is huge with increasing cases of people suffering from anxiety, depression, & stress. As a startup owner in 2023, you can benefit largely by launching a mental health app that helps people battle their inner demons. You can include options for live therapy sessions with reputed psychologists and video tutorials to recover from specific mental ailments.
6. Big Data & Healthcare Data Intelligence
Big data analytics has become a game-changer in the field of healthcare technology. There's a lot of health data available to healthcare organizations that can be used to improve patient care quality and lower operational costs.
Inefficiencies in EHR management, medication & treatment plans, & overall operations of healthcare institutions can be identified and rectified with the help of Big Data analytics. It provides medical insights & helps to classify common healthcare patterns which can be then used for enhancing the treatment plan quality.
Big Data finds faults in the entire healthcare system and gives feedback to improve the service quality. It helps to serve the purpose of treating patients with chronic and deadly diseases effectively by analyzing the measures to be taken to avoid fatal deaths.
7. Women Wellness Apps
In 2023, healthcare organizations across the globe are launching upfront women's wellness apps that serve the greater good of women. Realizing the needs that women have during every stage of their lives, femtech healthcare companies are offering niche healthcare solutions.
Various women's wellness mobile apps such as pregnancy-support apps, post-labour apps, motherhood apps, and nutrition-planning apps are being developed. The key factor is to harness a pain point that women encounter and provide a healthcare app solution that helps solve that.
A women's wellness app is one of the trending healthcare app ideas and will certainly demand attention in the mHealth market. You can also develop a healthcare app for women that brings all medical facilities to the comfort of their homes.
8. Healthcare Cybersecurity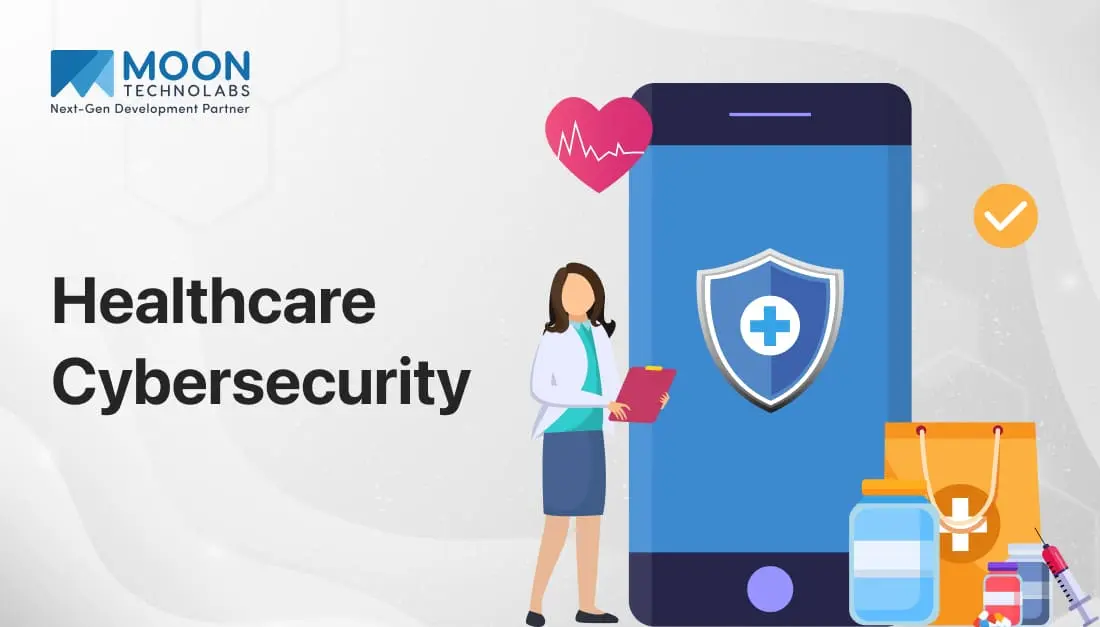 HIPAA compliance application development is the need of the hour & that's where healthcare cybersecurity comes in. Over the last few years, there have been several breaches reported concerning healthcare records.
As all patient records are being maintained in electronic health records these days, notorious third parties are finding ways to steal sensitive data. With cybersecurity growing in the healthcare space, measures are being taken to prevent data theft.
Biometric authentication, AI-powered threat identification, & blockchain systems are being used to prevent data breaches and enhance cybersecurity. A 'never trust, always verify' policy or the zero trust architecture method is being deployed by several healthcare organizations to enhance data security measures.
9. Growth of Artificial Intelligence (AI) & Machine Learning (ML)
The unparalleled duo of AI & ML in the medical space can be considered as a dominant healthcare app development trend. Healthcare wearables, drug tracking systems, and other connected health technologies all use the fabricated power of artificial intelligence to render effective healthcare solutions.
AI-powered healthcare apps can be used to suggest immediate medical treatment procedures to patients in the absence of medical professionals. The machine learning algorithms encoded in the app keep learning about patient moods & symptom progress when connected with IoMT wearables.
Having conducted patient data analytics, they convey detailed medical insights to doctors and help them prescribe necessary medications and treatment plans. AI is also being used to offer personalized health advice upon deciphering a patient's medical history.
10. Cloud Computing
The last in our list of healthcare industry trends is cloud computing, which has played a major role in improving healthcare services and patient outcomes. Mobile healthcare apps often have to store a lot of health data & update it to the server instantly to reflect progress.
That's where cloud computing and technologies come into the picture. It's used to safely store all patient data safely on the cloud and provide the adequate infrastructure needed.
This has also helped in reducing overall costs for healthcare providers & focus on offering upfront digital health services. Remote patient monitoring has also been effectively enhanced owing to advancements in cloud technology. Healthcare professionals can manage vast amounts of data effectively via cloud storage.
Enhance Healthcare App Performance with Cloud Technology
Partner with Moon Technolabs to facilitate cloud-based health app development.
Connect Now
Impact of Mobile Apps in the Healthcare Industry
In today's dynamic era of hustle and bustle culture, people don't find time to take care of their health. Juggling between the day's scheduled tasks and priorities, they fail to have healthy meals, perform fitness exercises, and conduct medical tests. This is where the need of the hour evolved, giving rise to mHealth applications.
Healthcare organizations across the globe went full-on into developing healthcare apps especially ever since COVID-19 hit the streets. Ever since the pandemic, there has been a substantial increase in the number of innovative healthcare apps and improved healthcare services via mobile devices.
The substantial growth of technologies such as AI & ML, IoT, VR, Blockchain, Big Data, Cloud computing, and wearable healthcare devices & their adoption in medical apps, has supplemented the increased adoption of mHealth apps. In one word, mobile apps are having a 'whirlwind impact' on the healthcare industry.
The way doctors & patients connect has been revolutionized with mobile healthcare applications via virtual consultations and telemedicine services. Remote patient monitoring is allowing doctors to build a great level of intimacy with their patients and attend to their medical needs on time.
The impact is only going to grow in the coming future!
Advantages of Mobile Technology in the Healthcare Industry
Developing a healthcare app can be beneficial for all the parties involved in the service line as well as the recipients. Let's look at the benefits Patients, Doctors, Caregivers, Hospitals, Clinics, and Startups can avail through the automation in healthcare industry.
Advantages of Healthcare Apps for Patients
The upfront benefit that patients avail is remote monitoring. Having embedded IoMT sensors such as glucose meters, blood pressure monitors, & activewear strapped onto them, they don't have to worry about medical contingencies. It brings a great sense of relief to the patient as they are consistently monitored by their medical professional.
Customization and Personalization
The great degree of personalization that can be achieved with medical apps is what makes it a natural winner. Depending on what kind of healthcare app is being developed, AI-based algorithms can be integrated to offer personalized healthcare solutions. Patients can have conversations with chatbots or go for a personalized VR meditation program to stabilize their mood.
Mobile health apps decisively improve patient outcomes and enhance the quality of healthcare delivery. Mental health apps help to improve patients' health and wellbeing whereas fitness apps help to bring their potential to the core. People can lead a healthy lifestyle by tuning into nutrition-planning apps and disease prevention-control apps.
Advantages of Healthcare Apps for Healthcare Professionals
Medical professionals in the healthcare industry can provide value-based services via mobile apps. They can schedule appointments, manage patient EHR, & attend to medical emergencies by using mHealth applications. Big data-integrated algorithms help to study the service quality & medical contingencies and provide insights that help to offer quality care to patients.
Better Communication and Patient Loyalty
Doctors and medical professionals often undergo stress when they have to manage a large influx of patients in hospitals and clinics. This is solved with the use of mHealth apps as doctors can communicate effectively with a patient who is composed & relaxed at their home. In-app notes and comments also help doctors to manage a rapport with their patients.
Medical Networking and Knowledge Enhancement
In the field of medicine and healthcare, it's important to stay updated with the latest trends. Doctors and medical professionals can connect via networking apps exclusively designed for healthcare professionals – a social networking app especially for medical professionals. They can share their valuable insights and ask for expert opinions on specific topics. It will help create a healthy atmosphere of consistent learning in the medical discipline.
Advantages of Healthcare Apps for Hospitals
Effective Management of Patient EHR
Hospital admins & staff won't no longer have to bother about patient data theft. As mHealth apps are now being integrated with blockchain technology and other cybersecurity measures, notorious third parties cannot manage to steal sensitive patient data. Also, the duplicity of patient files can be avoided with blockchain health apps as every data is authenticated.
Optimized Billing Solutions
Medical bills and other financial details need to be effectively stored for hospitals to function smoothly. Medical mobile apps are integrated with multiple payment gateways that allow users to make payments seamlessly. This is then safely transferred to the hospital account where every medical bill is automatically entered & documented.
Hospitals can drive immense traffic via mobile healthcare apps and gain massive revenue by treating patients effectively. Where there is a need, there is a solution. The quality of healthcare solutions provided via mHealth apps will determine the profitability of your business. You can display patient reviews in your app to enhance user trustability.
Gain Immense Benefits By Developing a Healthcare App
Reach out to Moon Technolabs to build a trendy health app.
Book Free Consultation
Leverage The Power of Healthcare App Trends With Moon Technolabs
Do you want to develop a world-class healthcare application that features the latest healthcare trends? Just partner with Moon Technolabs and you'll be able to launch your custom healthcare app in no time. Moon Technolabs is a leading healthcare app development company that specializes in developing formidable healthcare apps that provide patient-centric services.
Whatever your healthcare business model, our mobile app developers have the expertise to implement and develop a medical app that's befitting to your vision. Let us know your requirements and we'll work out the math to develop a robust mHealth app. You can also get consulting services if you want a project implementation idea, budget estimation, or other technical expertise.
You can hire healthcare app developers from us and work with our team at your convenience. They are flexible with various time shifts and contribute significantly to the completion of your project. So what do you say?