Health is a top priority for many of us and we are ready to do everything to stay healthy. While searching on the web, we come across several ways to maintain our health – intermittent fasting is one of those. 
It's a new and emerging concept that tantalizes the senses of all those health-conscious people who of late frequently download and install intermittent fasting mobile apps. Emphasizing on when and what you should eat by providing a customizable and flexible path to improve your health, intermittent fasting is completely different from a traditional diet.
To cater to a variety of needs and preferences, intermittent fasting comes in different types. So, one can choose the right form based on their own needs and start their fasting journey. There are a plethora of mobile apps available to make your intermittent fasting successful. 
So, whether you wish to adopt intermittent fasting for weight loss, or controlling blood sugar, it's pivotal to select the best intermittent fasting apps. In this blog, we have listed out some of the top-notch and high-grade intermittent fasting apps that help people make their intermittent fasting successful.
What is Intermittent Fasting?
Intermittent fasting has become one of the popular techniques that help people easily reduce excessive fat. People who adopt it get limited hours to eat every day to a specific time frame. 
In other words, people who adopt intermittent fasting are often fasting for a certain period or even days with a particular eating window, It can vary from person to person. So, you don't need to worry about the wrong or right way to do it.
It's a diet program that helps you keep your body toned by maintaining its structure and losing weight. You need to have a strong commitment and follow strict scheduling to do intermittent fasting successfully.
Health Benefits of Intermittent Fasting 
Offering a plethora of health benefits is one of the reasons why intermittent fasting has gained the attention of many people. Let's explore some of the most promising health benefits that you will be entitled to avail of after the adoption of intermittent fasting: 
1. Weight Loss and Body Composition Improvements
As mentioned, the major advantage of intermittent fasting is in weight loss and also the improvement of body composition. It works on the principle of restricting the eating window and thus reducing calories, which helps you lose weight. It helps you burn excessive fat in your body easily while protecting lean muscle mass. 
2. Improved Metabolic Health
Intermittent fasting helps you control insulin sensitivity and blood sugar levels and thus helps you improve your metabolic health. Once you start fasting, your body can utilize glucose for gaining energy quite efficiently, which also minimizes the risk of diseases like type 2 diabetes.
3. Mental Clarity and Increased Energy
Another crucial health advantage of intermittent fasting is increased energy level and also mental clarity. When you are in the fasting periods, your body shifts from depending on glucose for energy to burning stored fat. It gives you mental relaxation and thus helps you improve your mental alertness. The majority of people who do intermittent fasting often feel more energized. 
Potential Side Effects
Apart from some great advantages, intermittent fasting also has various potential drawbacks as well. Most of them include hunger, irritability, overeating during eating periods, nutritional deficiency, stress, sleep disorder, and more.
12 Best Intermittent Fasting Apps for Weight Loss
In the course of choosing the best intermittent fasting apps, you will find out a myriad of available options. And choosing the right intermittent fasting mobile app among the various available options is certainly not an easy task. Worry not, we have compiled here a list of the top intermittent fasting apps that witnessed higher download and installation rates: 
1. MyFitnessPal
While talking about the best apps for intermittent fasting, it's wise to start with none other than MyFitnessPal. As one of the top-rated health and nutrition applications, it helps users learn and gather complete information regarding food habits. It helps users explore the best diet options and make the right diet plan for them.
Doing this helps them achieve their fitness goal and thus can make their intermittent fasting journey successful. Whether you wish to track improvement for weight loss, fitness, or nutrition, the best fasting app lets you do everything. The app works as your nutrition coach and helps you adopt the best food habits.
Rating: 4.0 (Android), 4.7 (Apple)
Download: 100 M+
Price: $2.99 – $99.99 per item
Platform Availability: iOS, Android
Features of MyFitnessPal
Track macros and calories smoothly by using features like device integration and also barcode scanner.

Users can customize fitness goals based on their specific health needs

Get personalized nutrition insights

Get in touch with a registered dietitian 
2. Zero – Fasting Tracker
If you are looking for a simple yet the leading intermittent fasting app, you should opt for Zero. Whether you are an Android or iOS user, you can easily download and install the app to use it. The app features the exact location of users and also predicts when the sunset will take place in that location.
Be it fasting under quarantine, the best items to drink while eating, or enhancing your sleeping quality, this intermittent fasting application includes everything. With the app, you can easily track sleep, activity, and weight. 
The app makes it simple to set goals and thus enables you to keep an eye on progress easily. Available with personalized goal setting or built-in coaching, Zero makes it convenient for people to set their custom goals.
Rating: 4.4 (Android), 4.8 (Apple)
Download: 1M+
Price: $9.99 – $69.99 per item
Platform Availability: iOS, Android 
Features of Zero
Use a timer to set up your fasting goal

Content library to gather information and learn

Statistics to map your weight loss journey and progress.

Take some challenges aligned with your fitness goal
3. FastHabit
Featured by most popular brands like THE Guardian, GQ, and The Fast Company, FastHabit is a top-notch intermittent fasting app, that is apt for both regular users and beginners. Those who are in search of intermittent fasting apps free to start fasting can consider using FastHabit.
It provides you with a complete report that enables you to analyze your streak of 10 consecutive days of fasting and thus analyze the complete progress. Whether you seek to get reminders to stay on your fasting track, monitor your weight, or drink water, the app lets you fulfill your goals in various ways. It sends you notifications related to your fasting stats.
Rating: 4.3 (Android),
Download: 50k+
Price: $2.99 per item
Platform Availability: iOS, Android
Features of FastHabit
Select the number of hours to fast with options like easy editing, restart, and adjust

Sync with multiple devices like Apple Watch, Apple HealthKit, and others

Set reminders and notification

Get motivation stats to progress
4. Life Fasting Tracker
Life Fasting Tracker is one of the free intermittent fasting apps that makes your fasting journey smooth while letting you achieve your end goal hassle-free. Whether you are a beginner or an old user, it's good for everyone. 
Available with features like a scheduling tracker, it allows users to begin the start and end times on their own. They can set their goals for the fasting periods. It's good for those seeking motivation and inspiration for fasting. 
With the app, users grab an excellent opportunity to connect with the community and also those who follow intermittent fasting. The app permits users to share their experiences related to fasting, get support from others, and seek advice from others who are fasting.
Rating: 4.5 (Android), 4.8 (Apple)
Download: 1M+
Price: ₹270.00 per item
Platform Availability: iOS, Android
Features of Life Fasting Tracker
Use a timer to begin and stop your fast

It supports a range of intermittent fasting styles

Track your weight, blood glucose, etc.

Learning Library

Get calculators for health assessment
5. Fastic
Fastic mobile app that helps you redefine your eating habits while promising to generate individual materials based on your core requirements and objectives. Boasting on certain supplementary features including a stop counter and community following, Fastic enables you to share your complete progress and thus gives you an excellent chance to complement and motivate each other.
Fastic is packed with 400+ recipes that cover all required ingredients to provide you with all the required nutrients for your body. The app is available to install for everyone be it iOS or Android users. It's developed with the top intermittent fasting Apple water tracker and step counter as well.
Rating: 4.5 (Android), 4.8 (Apple)
Download: 1 Cr+
Price: $4.99 – $134.99 per item
Platform Availability: iOS, Android
Features of Fastic
Get a timer to set your fasting goal

Water tracker helps you track your water intake and then send reminders

The step counter helps you monitor the step count

In-house academy

Meal tracker 
6. Vora
While searching for popular intermittent fasting apps, you will come across another top-rated app named Vora, a cloud-based app. Whether you want to generate or edit fast, the app allows you to do so hassle-free. It presents a complete overview of your daily health progress in terms of your fasting hours, weight loss, and whole-day progress.
Moreover, the app permits you to connect to the community and meet others who are on intermittent fasting. It's one of the best free intermittent fasting apps for everyone, whether you are an iOS or an Android user. With the Vora app, you can get an overview of your last 7 fasts through a complete chart and can determine quickly you are hitting your target.
Rating: 4.2 (Apple)
Download: N/A
Price: ₹ 499
Platform Availability: iOS
Features of Vora
See the last 7 fasts

Create, edit, and delete fasts

Share fasting activities with community members
7. DoFasting
Whether you are experienced or a beginner, the DoFasting app will cater to your intermittent fasting needs. Being an easy-to-use app, it helps users to monitor their calorie and water intake. With the app, users get several fasting plans and valuable advice from professionals, right from experts.
With a weekly health report, you can find details about your health progress in terms of weight loss, water consumption, calories, and the number of steps you take on a day-to-day basis. DoFasting also has many other features including a complete fasting guide, a visual dashboard, numerous fitness tips, etc. The app is available on both iOS and Android platforms and caters to millions.
Rating: 2.5 (Android), 3.8 (Apple)
Download: 5L+
Price: $32.99 – $68.99 per item
Platform Availability: iOS, Android
Features of DoFasting
8. BodyFast
The Germany-based fasting app BodyFast enables you to develop a variety of fasting plans. It's one of the top overseas intermittent fasting mobile apps and allows users to select a coach and also get valuable meal planning tips. The app lets users take the liberty to take weekly challenges to make their fasting journey more purposeful.
It also helps them stay highly motivated and also stay competitive. Users can get coaching based on their data input, including weight goals, age, and more. BodyFast is available for both iOS and Android users. It helps you keep an eye on body measurement, weight, and also state of hydration.
Rating: 4.6 (Android), 4.4 (Apple)
Download: 10 M+
Price: $5.99 – $79.99 per item
Platform Availability: iOS, Android
Features of BodyFas
Gather crucial information for intermittent fasting

Weight tracker and stats

Get 100+ recipes 

Water tracker

Improve knowledge and motivation with coaching

10 fasting plans
9. Fasten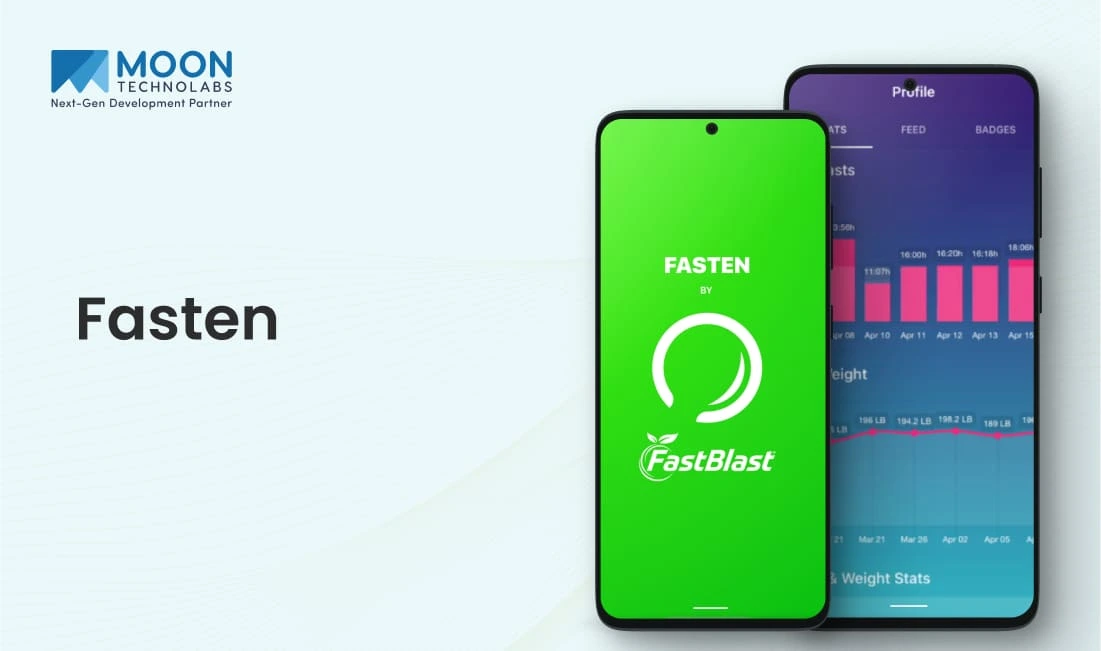 As one of the great mobile apps for intermittent fasting that promotes both health and wellness for users, the Fasten app includes features like water intake tracking and meditation. 
It has become the most preferred choice among the majority of users who are interested in intermittent fasting for including unique and high-grade features. The app enables users to track fasting with the use of eight options preset.
Besides, users can also use the app to track their fasting for even the entire week. Apart from this, users also get an option to customize the application based on their intermittent fasting cycle. If you are on a keto diet, this app can be the right option for you for letting you access 200+ low-carb recipes.
Rating: 2.5
Download: 10K+
Price: $9.99 – $29.99 per item
Platform Availability: Android 
Features of Fasten
Keto mode

Social sharing

Hydration tracking

Weight tracking

Mood tracking
10. Simple
Simple is another intermittent fasting app that lets you create a customized fasting plan tailored to match your specific needs. Being an all-in-one fasting app, it motivates you throughout your fasting journey with outstanding results in terms of weight loss. using a simple app, you will be able to explore expert advice and certain useful tips to make your journey interesting. 
With the app, you can easily connect with your Apple health app to track your sleep cycle, weight, and water intake. Being one of the free intermittent fasting apps, it allows you to access some of its basic features. To utilize some premium features like motivational articles, personalized insights, and tracking of intermittent fasting plans, users need to spend $14.99.
Rating: 4.3 (Android), 4.7 (Apple)
Download: 5M+
Price: $4.99 – $119.99 per item
Platform Availability: iOS, Android 
Features of Simple
Food tracker

Quick feedback

Daily guidance

Quick answers

Personal insights

Get progress charts to determine your outcomes

Reminders and notifications to focus
11. Fastient
Fastient is another easy-to-use application that presents a complete health progress before users. One can see their health progress before, during, and even after their fasting activity. Available on both iOS and Android platforms, the app permits users to record their complete food intake and thus determine their overall health progress.
The most interesting thing about the app is it can be accessed by desktop and smartphone. Being one of the top-rated intermittent fasting apps, it allows users to adjust their fasting schedule to achieve their long-term goals.
Rating: 4.4 (Android), 4.6 (Apple)
Download: 50K+
Price: $4.99 – $11.99 per item
Platform Availability: iOS, Android
Features of Fastient
Present health progress through the completion bar, weight loss through the graph, etc.

Customization of the fasting time

Can be accessed through multiple devices

Dark mode

Add progress features

emojis 
12. Ate Food Diary
Ate Food Diary is the most useful app for all those facing challenges to follow and maintain their fasting routine. Being a full-scale intermittent fasting tracker app, it includes features like a social community. Users can enjoy the freedom to add friends to their circles and expand it. They share their achievements in their circle while following their fasting routine actively.
Ate Food Diary allows you to keep a visual food diary and also offers the easiest way to 
set your eyes on the perfect food choice. With the app, users can track the gap between meals and snacks. For social media users, the app permits users to share what they eat using their Instagram profile.
Rating: 4.4 (Android), 4.8 (Apple)
Download: 100K+
Price: $4.00 – $29.99 per item
Platform Availability: iOS, Android
Features of Ate Food Diary
Users can add text or import or capture images of meal

Review past meals

Explore insights

Easy to customize based on your specific needs
How Much Does Intermittent Fasting App Development Cost?
The average cost of developing an intermittent fasting app ranges from $60,000 to $1,50,000. To develop a basic intermittent fasting app, you need to spend approximately $30,000 to $60,000. 
Meanwhile, some factors impact directly the cost of fitness app development, including the project complexity, number of features, development team strength, location of developers, experience of the development team, platform compatibility, and many others.
Apart from these factors, you have to spend on some other things including additional integrations, which can also increase the overall development cost. To get the exact idea about the intermittent fasting app development cost, you can get in touch with a professional app development company.
Conclusion
So, above is the list of top-notch intermittent fasting apps that witnessed an increased download and installation rate among users. Users can choose the right one based on their specific health needs and goals.
Apart from this, developing an intermittent fasting app has become a soaring concept among those who are looking for the best idea for a new business venture. Investing money in developing these apps helps you get complete value for money by earning vast profits.
When it comes to creating a customized intermittent fasting app, Moon Technolabs stands out as the ideal partner. As a leading app development company, Moon Technolabs offers the expertise, experience, and innovation needed to bring your vision to life.