Whether you have to celebrate a holiday, birthday, or anniversary, mark your career milestone, or buy a new home, a beautiful bouquet is always an excellent go-to gift. Fresh flowers have the magical ability to instantly brighten the mood, and they are convenient presents. Another interesting aspect is that a classic floral arrangement always delighted people. Furthermore, placing an online order for flowers delivery is easy with the help of good flower delivery app development. Here, you will learn a few top delivery apps, which may deliver modern flower bouquets and classic ones, like lilies and rose cuts, to almost everywhere online.
Top 6 Apps to Deliver Flowers Online
1.      Floom | Flower Delivery App San Francisco
Are you looking for a reputed flowers delivery app in San Francisco? Your search will end at Floom online. Here, you will get a few exclusive and unique floral arrangements people want to send to their loved ones. Here, you will find many local artisanal florists who always ensure a loving celebration of beautiful blooms and natural beauty to the near and dear ones.
Features of Floom
The app handpicks every outstanding florist to make sure of sharing values.
Every florist makes the most of the innovative technology platform and tools to create and deliver stunning bouquets.
Floom app ensures same-day delivery or transport of flowers and bouquets to every customer without holding the available stocks.
The app equips a backend management dashboard for florists to create, manage, and allocate inventories.
Floom allows florists and prospects to coordinate with its marketplace, and its software smoothly tracks the entire delivery process to ensure flowers delivered on time.
2.      UrbanStems | Flower Delivery App NYC
UrbanStems has gained its reputation as a leading delivery app in NYC. The company sources on-trend flowers and bouquets while creating many unique arrangements which gift lovers may hardly find anywhere else. Here, you will find many competent in-class designers to provide stunning bouquets to fit almost every occasion. Key features of UrbanStemson-demand flower delivery app development company are-
Features of UrbanStems
 Heading to the official website of UrbanStems lets you find a fantastic selection of products, like dried flowers, fresh bouquets, plants, gifts, and subscriptions.
 The app has easy navigation and possesses filters to let UrbanStems users sort everything based on product type, color, occasion, and collections.
 UrbanStems displays a calendar to inform you of the available delivery dates with notes about when the bouquets will be in stock again.
 Even though the UrbanStems app has a few sweet prewritten options, one can customize the respective part according to their requirements.
3.      Phoolwala | On-demand Flower Delivery App India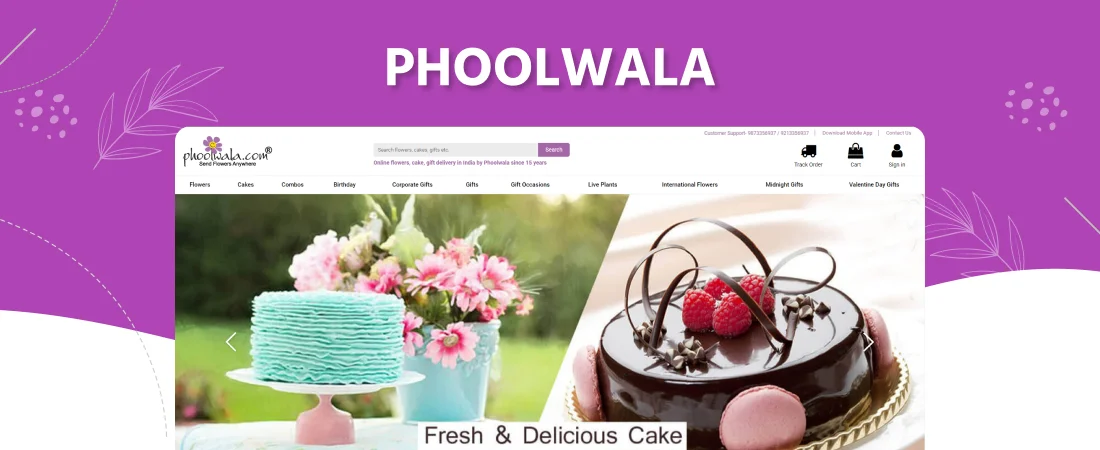 Phoolwala is an excellent on-demand flower delivery app in India. Here, Indian people may find a huge collection of flower baskets and bouquets to send flowers online to any city in India. Interesting features of the website/app include-
Features Of PhoolWala
Phoolwala flower app has a simple user interface to let users place orders flowers within only a few minutes.
One can add their favourite bouquets to the online cart or click on the Buy Now option to purchase them directly.
Phoolwala offers multiple options for delivering flowers, like Same-day Delivery, Next-day delivery, Early Morning Delivery, and Urgent Delivery.
The app is one of the affordable flower apps, as you have to pay only Rs 299 to buy a single bouquet.
4.      Cadoh | Flower Delivery App Toronto
Cadoh flower delivery app in Toronto Intends to offer and improve the flower delivery experience to customers. The app has made sending and receiving from and to florists reliable, simple, and enjoyable.
Features of Cadoh
Cadoh has a streamlined process to let buyers connect to local florists and order flowers online.
One can explore diverse styles and price points before selecting a specific flower bouquet.
Cadoh has an innovative flower app development feature to let users track their placed orders live.
5.      Tonic Blooms | Flower Delivery App
Tonic Blooms is the best app for flower delivery, it adopted an innovative approach to building a flower delivery app for everyone who wants to express their feelings to their loved ones. Individuals only have to choose their dream flowers and make a few clicks to deliver flowers at any time and location. Noticing features of the app are-
Features of Tonic Blooms
Tonic Blooms app incorporates the latest thoughtful designs, convenient delivery options, and straightforward checkout of florals and bouquets.
The app is perfect for delivering flowers on almost every occasion, including birthdays, anniversaries, and sweet gestures.
Tonic Blooms app offers two-hour delivery slots from 10 a.m. to 6 p.m. so that you always receive fabulous flowers and bouquets at the right time.
As a leading flower delivery app in Toronto, Tonic Blooms charges only $9.99 to deliver flowers in almost every area of Southern Ontario.
6.      Flowwow | Best Flower Delivery App
Flowwow best online flower delivery app, which is a full-administration commercial centre where neighbourhood shops put their things. They want to foster easy-to-use, basic, and speedy help to convey extraordinary products, blossoms, and baked goods.
Features of Flowwow
Customers should have the ability to browse a selection of online flowers and arrangements and make their choice.
The app should provide a range of delivery choices, including same-day, next-day, and time-specific deliveries.
Users may be able to alter their floral arrangements by choosing particular flowers.
 Cost To Develop Flower Delivery App
The cost to develop an on-demanding flower delivery app varies according to its features, stacks, and other crucial elements. You will find the following significant variables which affect the cost of designing or developing any flower delivery application-
The selected approach to app development
        UX/UI of an application
        Backend and frontend development
        Key features and types of integrated elements
        Third-party integrations
        Functionalities and customization
        Number of development hours
The most crucial factor in determining the cost to develop a flower delivery app is the country or location with hours. Accordingly-
| | |
| --- | --- |
| Country | Cost/Hour |
| United States | $70 to $250 |
| United Kingdom | $70 to $250 |
| Eastern Europe | $50 to $150 |
| India/Asia. | $20 to $80 |
Cost of Flower Delivery App Development as Per Location/Country and Complexity
Other than country or location, the overall cost for the development of any flower delivery app will be anything, depending on basic apps or complexities present in them. Accordingly-
| | | |
| --- | --- | --- |
| Type of App | India | USA/Europe |
| Basic | $10,000 approx. | $20,000 approx. |
| (MID)Complex | $15,000 approx. | $40,000 approx. |
Let's Get A Free Consultation from Our Experts.
Conclusion
A robust online flower delivery app allows people to send their appreciation and love in the form of beautiful blooms and flowers innovatively. Moreover, placing online orders even promotes customization. On the other hand, many flower businesses work keenly to deliver a smooth experience for sending flowers and receiving flowers. If you have to send flowers anywhere in India or any other country/location, you should check the list of the best apps and involved costs/cost factors to get a wonderful experience. Moreover, you can connect with Moon Technolabs for final cost estimations for any type of flower delivery app development.