Either we are different or everything else is same. We keep the same belief and live by this code in our iOS App Development strategy for our clients. In nothing more than simpler words, We are in-depth triggered towards forward-thinking iOS app development solutions?.
iOS app development is changing the way enterprises operate. Hence, we Moon Technolabs, a top iOS app development company have carved a niche in developing end-to-end iOS mobile app development service which are client-centric and it is best suitable and nurturing for corporate environments.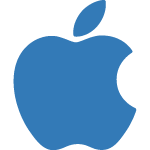 Our decade-old experienced professionals are lesser known 'employees' and more superior 'partners' in your mobile app development project. We strive for design, development & solution process to make your business simplify its processes and increase efficiency.
Our main aim is to help you achieve the maximum ROI. Whether you need a simple consumer based application or large enterprise app development services.
Enjoy Enhanced Productivity
with End-to-End SEO development services.
Focus On Your Business Goals
while we work on cutting-edge technologies as per your business requisites.
Valued Customer Based Engagement Model
accommodating to your business needs in every direction.
Maximise Your Return
with our powerful & result oriented strategy to help you increase business sales figures
Protecting Your Assets
we ensure that your data, source-code and software is impenetrable and utmost secured.
Reduce Stress
with unusual technology practice that gives your business, 'The Extra Dominance'.
We craft our esoteric logical approach pertaining to the customized & personalized need requested by our valuable clients. Keeping top-notch quality parameters for years has turned into a habit now and hence, we absolutely like to lend our ears to shape your business plan/idea into reality apps that offer exceedingly well usability and great potential for your business processes. You can expect fully integrated and innovative Xamarin development proposals from Moon Technolabs.
Project Scope-Scalability with Performance Feasibility Check
Our attention is to encapsulate on the various & feature-rich Xamarin platform to exponentially expand your presence to global targeted market and respective industry audience.
Strategic Tech-cum-Business Consulting
From ideation to execution, our dedicated team will remain the single point of contact to cater to your business needs so as not to have a distraction in the project and can contribute with undivided attention.

Our master software engineers are brilliant students and their manoeuvrability to play with the rules by staying within the limits set upon by the application development authority is highly enjoyable.
Living up to the highly emerging technologies now and then, allowed us to create our own touchstone in the defined field of development.

Responsive At First Sight
Our smart coders never missed out on the even slight shift in tech-trend and when it did, we adept before anyone else does.
A flair to detect and delete any inconsistency and give your business a seamless and beautiful working application.

Our goal is to complete the project with highest rewarding means with respect to the minimum time frame, hence we are the best 'Time-to-Reward' ratio company in the industry.

Cheerful Pricing Structure
We believe that your business project & services should not be left behind just because of the pricing and hence, with our affordable fee model our aim is to make you outreach to global audience.
Our Clients








Developed 300+ Native Mobile Apps Till Date
More Than 350+ Satisfied Clients Worldwide
UI & UX Focussed Development Model
Guaranteed Approval On Istore
Transparent Pricing Structure And Integrated Quality Process Workflow
Reliable And Engaging Development Solutions
Comprehensive Decision Making
Reasonable And Responsive Development Model
State-Of-The-Art Development Facility
SLA & NDA In Place, Always
Certified Developers & Trustworthy Enterprise Bestowed With GESIA Award In 2015
We Value Your Precious Time; Hence, No Delay In Projects
Assured Conscious Allocation Of Project Money
Smooth Collaboration & Real-Time Communication, Reporting And Analytics