Hire Laravel Developers & Programmers
Laravel is an open source PHP web application framework and have acted as a strong backbone since 2013. The extensive use of this PHP framework is visible through the means of a high-quality website and web applications.
Hire Laravel developers for your web application development at Moon Technolabs is specialized in a wide array of industry verticals such as,
– Healthcare web application
– Online shopping development
– Banking and finance web app development
– Tour & travel web app development
– Media and entertainment web app development
– Education and e-learning web app development
– Hospitality web app development
– Logistics & transportation web app development
Laravel developers/programmers are technically well adept in Routing functions, Installation & configuration of Laravel, Initiation on requests and input, Views and migration, Working with Laravel's ORM & non-ORM database method, Validating form data & uploaded files and Process files using Laravel's built-in methods.
Our Android Development Services:
Laravel Consulting And Strategy
Laravel & Blade Template Design, Development
Laravel Custom Web Application
Laravel RESTful Application
Laravel API Services Development
Laravel Customization & Integration
Laravel Application Development
Laravel Extension Development
SaaS Based Application Development
Laravel CMS & Package Development
Laravel Ecommerce Store Development
Custom CodeIgniter Programming
Laravel Portal Development
Skill Sets
Key Strengths Of Web Developer
Can Develop Advanced PHP Applications
Well Adept At Open Source Softwares
Skilled In Latest PHP Technologies
Clear Communication Channel
Technical Skills Of Web Developer
Development Skills:PHP 5.X, 4.X, HTML, Core Php, SMARTY, CakePHP, Laravel, Symfony, CodeIgniter, AJAX, XML, XHTML, JQuery, CSS, JavaScript, OOPS, MVC, Json, Rest & Soap Api
Domain Expertise:E-Commerce, CMS, Web Portals, Marketplace Solutions, Social Networking Etc.
Databases:MySQL 4+, MySQL 5+, Oracle, Doctrine, SQLite, Mongodb
Key Strengths Of Web Designer
Experience With Professional HTML/HTML5 Development Projects
Familiarity With Standards, Proven Practices And Procedures
Continual In-House Training And Development Program
Good Communication Skills & Support Using Skype / Email / Phone
Experience With Tools Like JIRA, BaseCamp, GIT/SVN
Technical Skills Of Web Designer
Tools:PhotoShop, Dreamweaver, Illustrator, Fireworks Coreldraw, Eclipse
Development Skills:HTML 4, HTML 5, XHTML, CSS, JavaScript, JQuery, Twitter Bootstrap, Prototype Implementation
Concepts:W3C Compliance, SEO Semantic Coding, Responsive CSS Shorthands
Key Strengths Of Mobile Developer
Experience With Tools Like JIRA, BaseCamp, GIT/SVN
Experience With Commercial-Grade Android Applications
Familiarity With Standards, Proven Practices And Procedures
Continual In-House Training And Development Program
Good Communication Skills & Support Using Skype / Email / Phone
Technical Skills Of Mobile Developer
Development Skills:Swift, Java, SOAP, REST, XML, WSDL2OBJC, HTML5, Android SDK-NDK & Studio, Eclipse, Objective-C , Cocoa, Cocoa Touch, OpenGL ES, C++, XCode IDE, SOAP, IPhone SDK 4.X, JavaScript, JQuery, Media Query, Interface Builder, Unity 3D Engine, XML Parsing, GLSprite Animation, REST And/Or SOAP
Concepts:OOPS, SVN, API, Web Services, Mobile Applications Payment Gateways, In-App Purchases, Google Play Store & Itunes, Push Notifications For Android & IOS
Tools:SQLite And Other RDBMS Databases
Our process is our approach towards everything. Our development process is very simple. Upon receiving your project's requirements, our development process ends on presenting you with optimum design and get your review from the initial version of the app. Moreover, following the same pattern, every time combining with your feedback and integration quality testing, hence, comes submission to the store.

Strength
Our Apps is
responsive at first sight, developed on proven methodologies, developed in the State-of-the-art facility, generating lifetime value for business, harnessed with the optimum power of mobile platform.
Our Team is
cross-functional meaning we keep real-time communication between all departments, forward thinking, adept with ready-to-go solutions, available round the clock, is responsible for updating reports & provide analytics
Give Project & Get
white label service, developer selection process, dedicated project manager, PMS for project management, QA tested bug-free solution.
0%
defectoritis meaning none of our clients have taken their business elsewhere, backlog, hence increased project scope and scalability, downtime, because of ready-to-use power backup infrastructure , delay in projects as we value your precious time, negligence, hence on-time project delivery.
100%
approval from the app store, qualitative & quantitative research on the project, global quality assurance standards, strategic tech-cum-business consultation for quick ROI , abiding by the app code for development.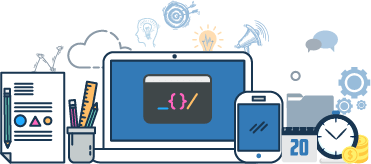 When it comes to living a tech adoptive digital life, we like to stay ahead of the competition. And here is why you should choose us to see why your ideas needs us to come alive.
Here's a quick glance at everything, if you might have skipped through our a bit in-depth & detailed description to provide marvellous service to look after for your business needs.
Our Company Is
SLA and NDA bound, client-centric, multi-channel supportive, focussed on your project goals, providing an app for every business.
Goodwill Inclusive
source code authorization, quick team scaling, valued customer based engagement model, security and IP protection, protecting your assets.
Goodwill Assurance
a transparent pricing structure, all-round services, conscious allocation of project money, maximise your return, smooth collaboration .
Goodwill Services
enjoy enhanced productivity, 24*7 Technical Support, better experience & quality, pre & post sales support, UI & UX focussed.
Goodwill Credibility
the best time-to-reward ratio by certified developers, more than 350+ satisfied clients worldwide, developed 300+ Native web & mobile apps till date, highest 'Net Promoter Score' meaning mostly.
Goodwill Session
know the cost logic, reviews and client's expectation, rapport and communication, detect & delete if any inconsistencies, single point of contact.
We Do
regular KPI of developers, have future-ready applications, performance feasibility check, like to stay clear about the budget, like our solutions to be 'responsive & engaging' and our model to be 'reliable & reasonable'.