Food Delivery Apps Toronto
The latest Covid-19 pandemic has forced people to stay within strict guidelines and indoors. It leads to the demand for online food delivery services, as many people have started placing orders for their favorite food items and beverages online. In particular, online food orders are common in the United States and Canada. A major benefit of online food delivery is that the process is more convenient than physically visiting a restaurant. However, there are many food delivery apps Toronto available online. In this situation, you should dedicate some time to know a few of the best food delivery online restaurants or apps available in Toronto.
1. Uber Eats | Best Food Delivery Toronto
Uber Eats is the first name that strikes the mind of every foodie looking for the best food delivery in Toronto. The application has obtained huge demand based on its outstanding usefulness and easy order process.
What Uber Eats Offers
As one of Toronto's leading food delivery apps, the company has tie-ups with many giant food outlets, like Starbucks, KFC, and McDonald's. Accordingly, foodies may easily search and place online orders of their favorite vegetarian and non-vegetarian dishes there.
How Uber Eats Benefits You
You are available with multiple options from diverse food outlets.

Foodies may order their items via call as well.

The online delivery app provides hassle-free food and delivery-related tracking solutions.
2. Foodora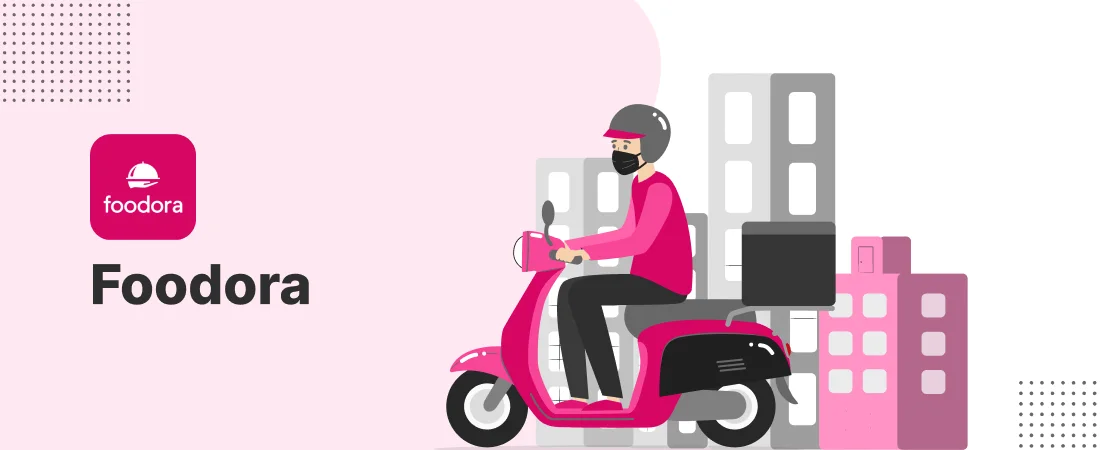 Foodora is also an excellent choice for many people in Toronto to get online delivery of food items. An interesting aspect is that it offers cooked dishes from diverse restaurants and supplies retail items, including groceries.
What Foodora Offers
Foodora operates via the third generation of e-commerce or digital commerce to supply food items, groceries, and a wide range of retail items to customers. The company has a connection with a few of the top restaurant and retail chains to deliver almost everything (edibles) conveniently and in less time.
How Foodora Benefits You
Foodies will get assurance of food delivery by any Foodora's food courier within 30 minutes of their placed orders.

The company offers both B2B and B2C services to Toronto customers.
3. Skip the Dishes
Skip the Dishes is also a reputed online food marketplace. It connects millions of food lovers with more than 30,000 restaurant or food hub partners operating in Canada.
What Skip the Dishes Offers
Skip the Dishes has become one of Toronto's best food delivery apps. It collaborates with approximately thousands of restaurants and local favorites, which usually do not have their delivery system. What would be better than discovering many new cuisines around you with a few clicks/taps on your mobile phone?
How to Skip the Dishes Benefits You
You may watch your placed online order via a GPS tracking facility.

The company always maintains transparency in the food quality, packaging, and delivery of your dishes to your doorstep.

Foodies may filter their available options according to the delivery fee.
4. Ritual | Free Food Delivery Toronto
Ritual is one of the Toronto food delivery apps and web platforms. It allows you to place online orders for pickups at nearby cafes and restaurants.
What Ritual Offers
Ritual lets you enjoy your favorite coffee or any other beverage and a few of the best salads via its connection with hundreds of the best cafes and restaurants in Canada. Moreover, you will always get fresh meals and beverages without cold takeout or large batches. 
How Ritual Benefits You
Ritual mobile app and/or web platform provides convenience in the delivery process without any loose change and fumbling with your wallets.

Foodies may try many new cafes and restaurants and save offers or exclusive perks.

A simple search with letting you find any of your delicious items at a budget-friendly price and let you collect points on your eligible purchases.
5. Fantuan | Food Delivery Apps In Canada
Fantuan is one of the reputed food delivery apps in Canada. The delivery platform allows users to connect with their favorite locals operating there. Food delivery online allows users to get instant delivery with pickup services for various food items and products. 
What Fantuan Offers
Fantuan is a one-stop solution for all who want the delivery of groceries and food items same-day and at their doorsteps. You may even receive a welcome coupon pack depending on your placed order.
How Fantuan Benefits You 
Fantuan allows you to select from many big-name restaurants and local specialties.

You may pick up your orders directly from your favorite restaurant to avoid any delivery fee.

The company offers much more than restaurant delivery; it offers snacks, fruits, beauty products, and flowers.
6. DoorDash
DoorDash has gained a good name as one of Canada's best food delivery apps based on its relatively fast food delivery service. It was initially set up in America but later started its business in Canada.
What DoorDash Offers
DoorDash has connections with thousands of grocery stores, restaurants, and convenience and pet stores to deliver the best products in your neighborhood per your demands.
How DoorDash Benefits You
The app allows users to identify local and on-demand delivery from their favorite restaurants, surrounding groceries, and convenience stores.

Every individual connected to DoorDash may choose no-contact delivery to enjoy their dishes even during the current Covid-19 pandemic.

The app offers zero delivery charges to all users who subscribe to DoorDash.
7. Chanmao | Cheapest Food Delivery App Toronto
Chanmao is the best option for free food delivery in Toronto based on its easy and convenient order option. The food delivery app is for everyone who wants to satisfy their Chinese food craving.
What Chanmao Offers
Chanmao food delivery app connects with many restaurants and local cafes, which offer delicious and fresh Chinese cravings.
How Chanmao Benefits You
Users may place an order from many restaurants, which are hardly listed in any other online food delivery platform.

Every consumer may navigate via several Asian cuisines to choose their favorite item.

The app has a loyalty reward model to give a wonderful experience.
8. Todaysmenu
Are you looking for a healthy food delivery service provider in Canada? Your search will end at Todaysmenu, which caters to food for a single couple and up to four people.
What Does Todaysmenu Offer?
Todays menu offers varieties of vegetarian foods, with many products free from gluten and dairy items. The platform allows foodies to use it conveniently during day times between Monday and Saturday.
How Todaysmenu Benefits You
The food delivery online app uses a few of the best ingredients to let you enjoy each bite.

The company and its experts dedicate many hours to sourcing, preparing, packaging, and delivering the food.

Here, every food will arrive sealed and frozen to make sure of delivering healthy food items to customers.
9. Thai Lime
If you are a die-hard fan of Thai food, Thai Lime should be on your list of online food delivery apps in Canada. The app is the most cost-effective way to get Thai food delivered in Toronto.
What Thai Lime Offers
Thai Lime food delivery app specializes in offering a wide range of Thai and Malaysian cuisines in almost every area of Canada. 
How Thai Lime Benefits You
The app lets you get your favorite Thai and Malaysian food delivered to your doorstep.

The platform lets you get discounts depending on your selected restaurants and save a few bucks while placing online orders.
10. Platterz
Platterz is a recommendable food delivery app for all willing to cater food items as an essential business meeting or related office occasion.
What Platterz Offers
Platterz online delivery performs the function of carrying plates for its users. It also allows a company's team members to order their customized packaged meals, which come within their budget.
How Platterz Benefits You
The online platform conveniently caters to several food items during an office event or business meeting.

It offers budget-friendly food items to every executive in the office.

It reduces the wastage of food items and increases the utility of placed orders.
11. Lejoy Food Delivery
Do you want to get your favorite food regardless of the time and physical address? Click on your mobile phone to order almost every dish from Lejoy Food Delivery online.
What Lejoy Food Delivery Offers
Lejoy food delivery connects with many local restaurants and cafes to let users order their favorite foodanytime. Moreover, the app lets you order food in bulk to welcome unexpected guests or launch a party at your home.
How Lejoy Food Delivery Benefits You
Lejoy food delivery online is preferable for all who want excellent customer service.

The platform offers excellent food delivery at a reasonable price and to one's doorstep.
12. Eat Click |Best Grocery Delivery App Toronto
Eat Click is one of Toronto's best food delivery apps to provide lunch delivery services in every office and condominium. The app provides different types of restaurants and food hubs to select conveniently.
What Eat Click Offers
Eat Click offers a handpicked daily food menu from a few top local spots and restaurants to satisfy your cravings and hunger within a few minutes.
How Eat Click Benefits You
The app is easily-usable for food lovers.

Eat Click provides a variety of cuisines from around the caterers and local restaurants.

It does not charge any delivery or membership fee.

The online delivery app makes sure of accurate and timely deliveries.
Let's Get A Free Consultation from Our Experts.
Conclusion
Based on the valuable information related to food delivery apps in Toronto, you may easily order your favorite food items and enjoy dishes conveniently by staying at your home. Moreover, if you are looking for food delivery app development, then Moon Technolabs is the final place for you. Let's connect with us to build an amazing food app.